Fluence Analytics Named a 2023 Best Place to Work in Houston by Built In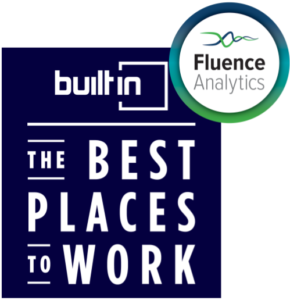 Fluence Analytics, a leader in continuous analytics and process control solutions for the polymer and biopharmaceutical industries, was named as a "Best Place to Work" in Houston in 2023 by Built In. Built In is a technology platform that connects employers and job seekers globally, helping companies hire otherwise hard-to-reach tech professionals. In addition to the "Best Places to Work" recognition, Built In named Fluence Analytics as one of the "50 Best Startups to Work for in Houston."
This is the fifth year of the "Best Places to Work" Awards, which recognize companies that value their employees while creating meaningful experiences. The annual awards recognize companies of all sizes, from startups to large corporations. Built In uses an algorithm to determine the winners, using data on compensation, employee benefits, and professional development opportunities.
Fluence Analytics is a Houston-based startup that delivers process monitoring, optimization and control products to polymer and biopharmaceutical customers worldwide. The company has two product lines, ACOMP and ARGEN. ACOMP is a polymer smart manufacturing system that plays a leading role in digital transformation plans by generating never-before-seen data sets that improve product quality and yields, reduce cycle times, and reduce energy consumption and material waste. ARGEN accelerates and optimizes the development of novel biotherapeutics with the use of unique time dependent data sets that provide insights into how thermal and mechanical stress impact the stability of biologics, which is a vital criteria for releasing new therapies to patients worldwide.
Connect with Fluence Analytics Today!